Available NOW!
"A tapestry of Orchestral and Solo Performances"
To obtain a copy of the CD please send Claudio an email at ClaudioArts27505@gmail.com and he will reply with instructions for purchase.
Only $11.95 plus postage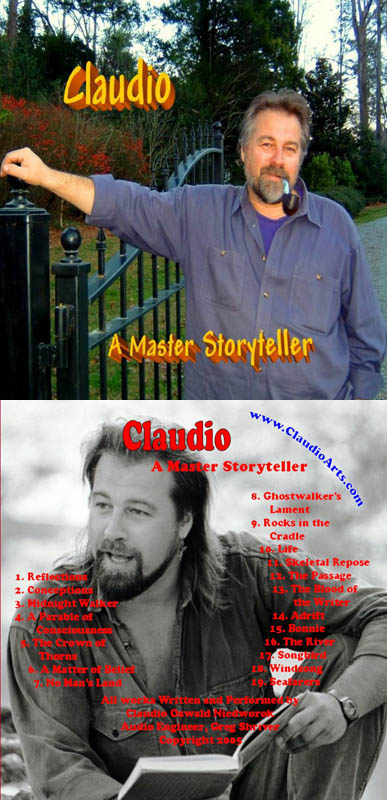 ABOUT THE CD
Romantic, suspenseful and evocative. Well delivered. Impressive! True to the Soul. Profoundly moving.
Claudio's recordings are both timeless and compelling with an ever increasing National and International circulation that is attributable to word of mouth alone.
The timelessness of his myriad subjects and themes along with a spirituality and philosophy intrinsically relative to aspects explored in his Masterful Storytelling and Poetry Performance Art is doubtlessly an essential element in this gradual movement and reach Claudio's works inspire.
Throughout his emergence as an artist and most unorthodox artistic career Claudio has gained the admiration, respect and support of true legends in the arts with whom he maintains and shares an ever evolving friendship and artistic counsel.
Instead of pursuing Crowd Funding for 20 more books and CDs to come, already written, I am hoping one publication will support the next through public readership support since I do not have deep pockets but lots more stories and other literary, recorded and visual arts available through my website: www.ClaudioArts.com
Enjoy the CD. Cheers!
Claudio