Culinary Arts with Executive Chef
Claudio Oswald Niedworok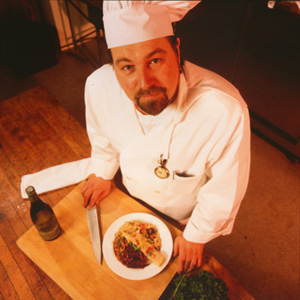 A Personal Chef Cooking Service
for any event, grand or intimate.

A Master in the Art of International and Original Cuisine.
Apprenticed in Baden-Baden / Black Forest, Western Germany at The Brenners Park Hotel, The Munich Hilton and other prominent Culinary Institutions Internationally.
Award Winning Menus ranging from Elaborate to Stylishly Conservative Cuisine.
Executive Chef Aboard the Private Yachts and Schooners of Lorimar Productions and Renowned Personalities of the International Stage and Screen.
Originator of "Tropical Moon" (A Universal Seasoning).
Claudio is the nephew and Godson of the Internationally Renowned Culinarian, Chef Oswald Mair: Executive Chef of The London Hilton for more than twenty years , frequently catering to The Queen of England and other Royalty, and the Chef who designed and instructed the preparation of The Royal Wedding Dinner for Prince Charles and Lady Diana.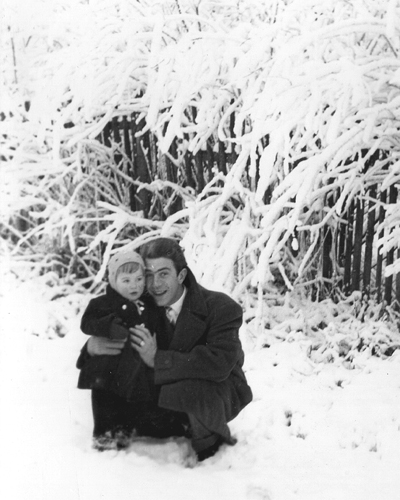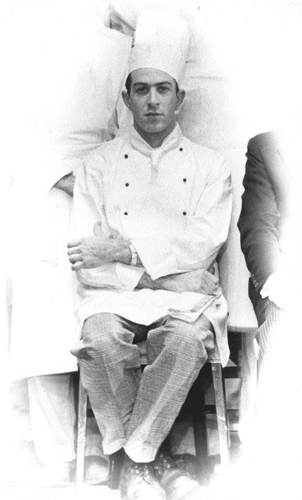 Claudio and Uncle Oswald
Executive Chef Oswald Mair of the London Hilton Hotel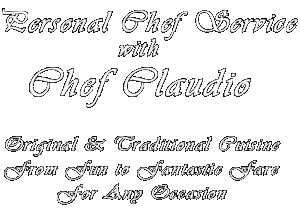 Custom designed menus to maximize the investment in your event
In Home • At Work • On The Go
Chef Claudio is currently based in the Triangle (Raleigh – Durham – Chapel Hill – Carrboro) area of North Carolina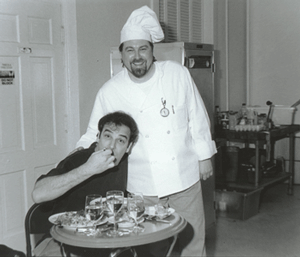 Chef Claudio with Mandy Patinkin
Mardi Gras Gala
The Carolina Theatre, Durham, NC
Chef Claudio accepts only a limited schedule of engagements throughout the year so please inquire regarding his availability.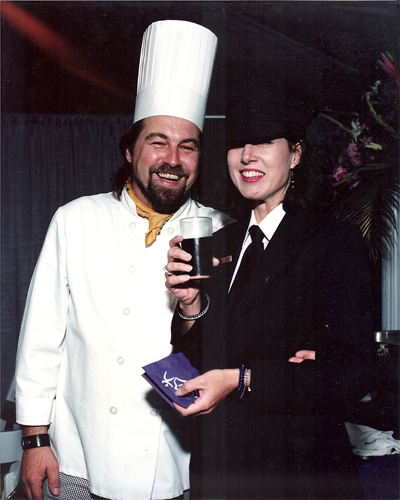 Claudio as Executive Chef for
The Heartstrings Gala Touring AIDS Quilt
Fundraiser Food Tent
at Raleigh's Memorial Auditorium

Rush (Canadian Rock Band)
"The Waltons" Cast & Crew
Nat Blake
Calypsonian "King Obstinate"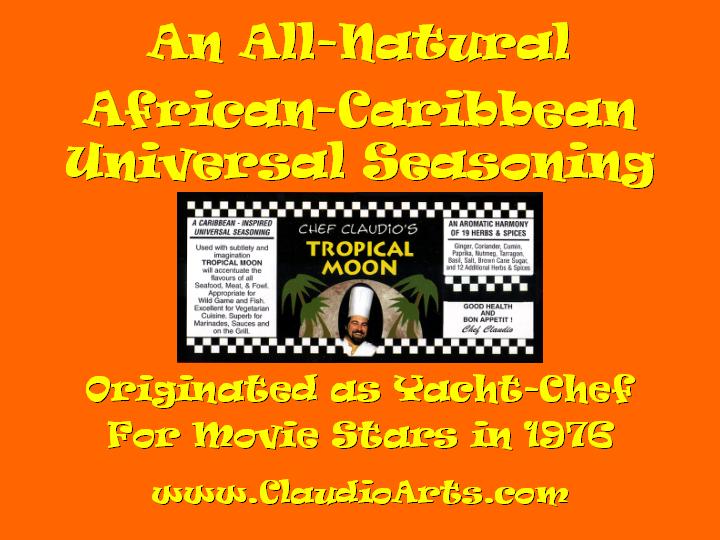 Chef Claudio's TROPICAL MOON is an African-Caribbean inspired harmony of 22 herbs and spices from his time and culinary experiences in both regions of the world. With an extensive and learned understanding of the digestive and medicinal benefits of herbs, spices and foods for their natural healing properties, our Chef has inspired a worldwide following with his tasty and healthy all-natural creation. He remains the only outlet for acquiring TROPICAL MOON.
Used with subtlety and imagination TROPICAL MOON will accentuate the flavours of all Seafood, Meat, and Fowl. Appropriate for Wild Game and Fish. Excellent for Vegetarian Cuisine. Superb for Marinades, Sauces, and on the Grill.
Good Health and Bon Appetit!
Chef Claudio.
TO ORDER CONTACT CHEF CLAUDIO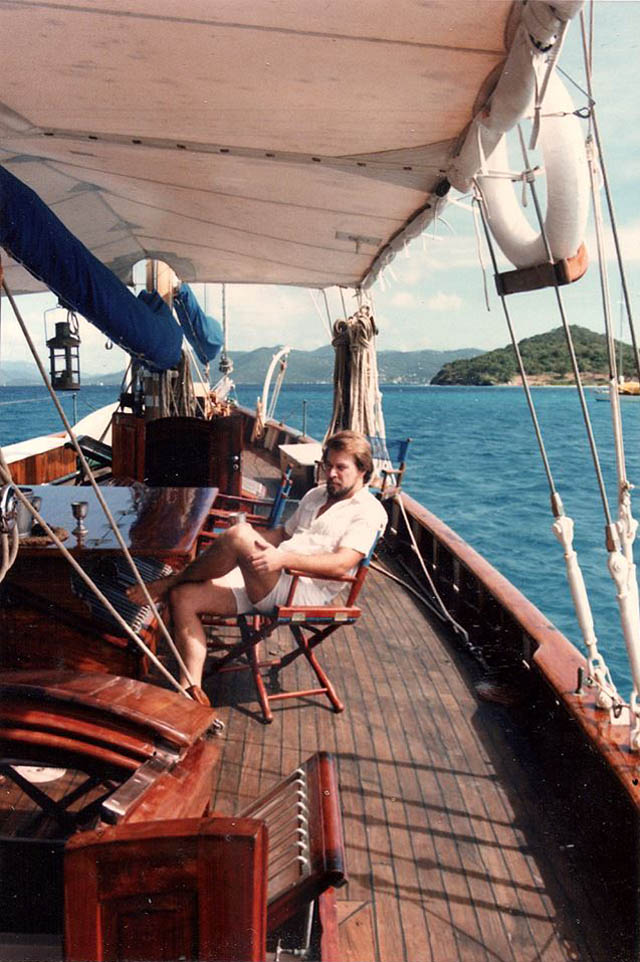 Chef Claudio living the good life aboard the Schooner Orianda in Tortola, BVI in 1985 after winning the Virgin Islands Yacht Show at King Garden Bay (the place Jimmy Buffet sings his song "Manana" about). Among the reasons for winning was Chef Claudio's Seasonal Menu. The Schooner was built in 1937 for the King of Denmark and owned by the Canadian Rock Band RUSH at that time. I dedicate this to all who know me. Cheers, mates!

Special Events as Executive Chef…
Mandy Patinkin Gala, After-Theatre Dinner (Fundraiser) at The Carolina Theatre, Durham, NC 1996
Reservations Only
(Even though we have no reservations – we require them from you !)

Private Gourmet Dining/In-Home or Facility to include Private Yachts, Theatrical Venues, Art Galleries (notably West Side Gallery in downtown Raleigh, N.C.), Concerts, etc.

James L. Williams, Director of State Government Affairs, Glaxo and Glaxo Wellcome, Private In-Home Dining
Cultivating The Culinary Instinct, Private Lessons in Traditional & Original Gourmet Cuisine since 1976
Executive Chef at Heart String Gala, National Aids Quilt Fundraising Tour, Memorial Auditorium, Raleigh, NC, 1992
Theatre In The Park, Three Penny Opera, Cast & Crew Wrap Dinner, 1992
And many more…

Executive Chef Aboard Private Yachts…
"La Costa Brava I" (69 ft.) Lorimar Productions
"La Costa Brava II" (102 ft.) Lorimar Productions
"El Presidente" (102 ft.) Ft. Lauderdale Marine Services (currently Chicago-based)
"Elegante" (102 ft.) Ft. Lauderdale Marine Services
"Pilgram II" (96 ft.) Ft. Lauderdale Marine Services
"Kardia" (120 ft.) Bullock Enterprises
"Orianda" (74 ft. Sailing Schooner) Canadian Rock Band "RUSH"*

*Resulting with Menu Selection being one of the main reasons "Orianda" won the yacht show in Tortola at King Garden Bay B.V.I in 1985.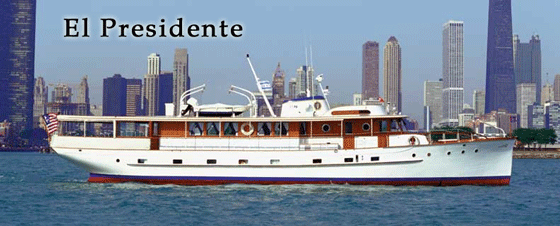 Some Noteworthy Hotels, Restaurants And Inns Formerly Served By Chef Claudio…
St. Thomas, U.S. Virgin Islands
Bluebeard's Castle (in Charlotte Amalie)
L' Escargot (at Sub-Base)
New York City, Manhattan
The Blue Star Bar (on Broadway)
Luma's Vegetarian Macrobiotic Gourmet Restaurant
Fort Lauderdale, Florida
The Yankee Clipper (on A1A)
The Galt Ocean Mile Hotel (on A1A)
North Carolina
Papagayos (Raleigh)
The Royal Villa (Raleigh)
The Capital City Club (Raleigh)
The Velvet Cloak (Raleigh)
The Fearrington House (Pittsboro)
Stephens After All (Chapel Hill)
Hotel Europa (Chapel Hill)
The North Carolina Mutual Insurance Company  (Durham)
The Carolina Theatre (Durham)
The Governor's Inn (Research Triangle Park)
Glaxo (Research Triangle Park)
The Pinehurst Hotel (Pinehurst)
Seth Jones (Wake Forest)