ClaudioArts Gallery
Watercolour Brush and Pen Abstracts
Cubist-Expressionist
Art
at
Approachable
Prices…
Inquire
with
The
Artist
Claudio's Watercolour Brush and Pen Abstracts have been referred to as both cubist and impressionistic. Claudio defines his works as Festival Colours… "My colours and my art are designed to rekindle our inner smile and romantic nature. To stimulate an appetite for the festival of the soul."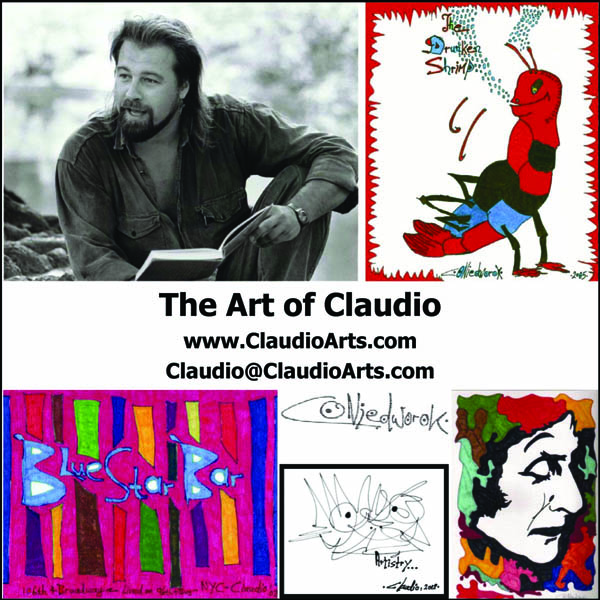 Claudio admits to a Peter Max, Picasso, Salvador Dalí, African and Caribbean influence. His art has been exhibited in the Virgin Islands, the Yucatan, New York City and Raleigh's West Side Gallery, Theatre in The Park (at the invitation of Director Ira David Wood III for the performance of "Burn This" featuring Terrence Mann and formerly for Claudio's own maritime production of his book "SEAFARERS"), North Carolina State University's Thompson Theatre (at the invitation of Director John McIlwee for the ensemble performance of "SEAFARERS" there) and also in prominent homes and establishments throughout The Greater Triangle Area.
His entirely unique venture "Artist Makes Housecalls" combines his Literary and Storytelling talents with a portable Art Exhibit. If so desired Claudio will also include his culinary skills in the planning through execution stages of memorably informal to sophisticated fare. For more information about the wide range of possibilities at your event, click here: "Artist Makes Housecalls"
Invest Now!!!
Original scripted and illustrated Poetry and other Writings customized to suit the patron's
requirements by The Poet Claudio ~ signed and dedicated.
Standard size: 8.5 x 11 (larger or smaller can be requested).
Some art is coupled with poetry (such as "Marceauesque") and sold
as a set if painting is purchased but the poetry may also be purchased individually.
Prices range from $45 ~ $85 ~ $125 and up… subject to increase for larger and / or more extensive works.
Framing can be provided for an additional fee / to be discussed and agreed upon.
Include $5 Postage per Poetry Art.
The Multidisciplinary Artist and Master Storyteller Claudio is emerging Internationally
and building his name on many fronts (as this website may indicate) which will serve to
increase the value of his art. Claudio sets a high standard and an approachable value in
all of his artistic endeavours (Writings, Recordings, Paintings, and Performances).
Books, CD's and DVD's are also available.
Choose from any works.
INVEST NOW!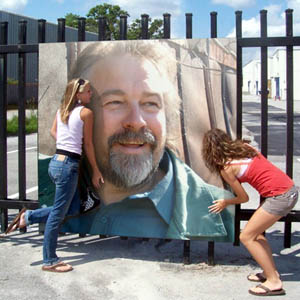 Claudio by Ernie Hood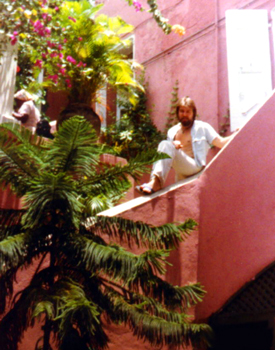 Claudio living in St. Thomas, USVI
Satyriko – Graphic Originals by Claudio

Available For Purchase
Originals and Reproductions are available for purchase.
Claudio's Original Art is provided framed and ranges in price from:
$100 to $2000 / depending on Art selected and size requested.
(Large scale commissioned works may be subject to an increased rate).
No Prints / Customized Originals Only!
No two works are exactly alike as each is individualized for the purchaser.
Commissions are accepted.
Available for Art Exhibits in Galleries and Homes. (See: Artist Makes Housecalls).

The artist proudly presents an entire volume of his graphic arts at thumbnail size and in limited resolution on this site. He is pleased to provide private or public viewing of works not exhibited here by appointment or at bookings and engagements.
Click on any image to enlarge
Note: Claudio's colours are more intense and vibrant than the scanning for this website may exhibit.