Claudio – A Master Storyteller (CD)
A tapestry of Orchestra and Solo Performances.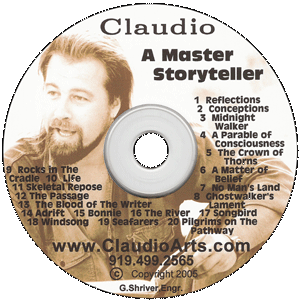 An original collection of orchestrated Poetry, Prose and Storytelling that is among the author's earliest recorded works which are written and performed in a very timeless way. This is Storytelling at Claudio's hypnotic best and a marvelous introduction to the wide range of his exotic and alluring imagination.
Romantic, suspenseful and evocative. Well delivered. Impressive! True to the Soul. Profoundly moving.
— Executive Chef Oswald Mair of The London Hilton
Audio Samples
Click on a link below to listen to sample CD tracks.
Reflections (42 sec. excerpt)
Midnight Walker (34 sec. excerpt)
No Mans Land (25 sec. excerpt)
Ghostwalkers Lament (22 sec. excerpt)
Rocks in the Cradle (32 sec. complete track)
Skeletal Repose (41 sec. complete track)
Windsong (47 sec. excerpt)
All CD's are $ 12.95 each or any 4 for $ 40 ~ plus $ 2 (per item) Postage. Please contact Claudio to place your order.