Chef Claudio ~ The Live Performance During Chef Claudio's Cooking Class (DVD)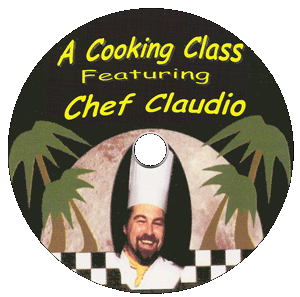 Filmed By Mayor Charles Wood Of Lizard Lick / A C&C Production / Claudio and Charles
This 20 minutes worth of Cuisine Hilarity features Claudio in his culinary career putting on a nine week cooking course (Cultivating The Culinary Instinct) for a small group of rather prominent students when he is imposed upon by the Mayor of Lizard Lick and his film crew to recite and perform the veritable limerick by the same title as the township. LIZARD LICK is the closing impromptu performance on this entirely spontaneous DVD!
Educational, Entertaining and Very Humorous.
— Mayor Charles Wood
All CD's are $ 12.95 each or any 4 for $ 40 ~ plus $ 2 (per item) Postage. Please contact Claudio to place your order.