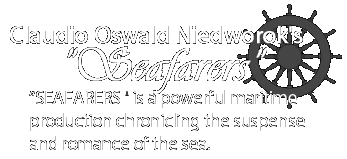 "SEAFARERS" is a spoken recital of stirring tales and chanties of the seas by Troubadour Poet and Storyteller ~ CLAUDIO!

by Claudio Oswald Niedworok
"Seafarers explores, exhibits and reveals a culture all too unfamiliar and neglected in current literature. Namely ~ the way of life of the man of the sea. It is the design and quest of its author to bring greater awareness and mindfulness to a realm in which heroism is routine, courage the norm and friendship the ultimate reward. Where instinct is mastery, neglect is tragedy and the aquatic terrain yields both tedium and terror. Where change is as inevitable as the lurking winds and the wine of life, love and comradery is drank deeply and resolutely."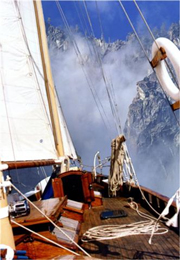 "Mr. Niedworok indeed has some fascinating stories to tell. Born in olde Germany by the banks of the Blue Danube, he was raised in South Africa. He has experienced everything from apprenticing as a Chef in Baden – Baden to practicing his craft while sailing the Caribbean on private yachts and schooners ~ where much of this performance was inspired, conceived and written. Along the way Claudio has gained the admiration, respect and friendship of many artists and performers. Marcel Marceau once referred to his friend Claudio's poetry as "Romantic and true to the soul." Marceau regarded both their works as having "stood a common ground in their soulful expression of the human condition." "SEAFARERS" is also a published book which is available along with various other publications and recordings. With the poet's eye for imagery and ear for rhythm, Claudio has captured his experiences in a chapbook he calls "Seafarers." This captivating collection of narrative poetry and storytelling examines the highs and lows of a life at sea. From the terse, haunting lure of "No Man's Land" to the warm embrace of "Seafarer's Lady", Claudio's writings explore and expose the complex emotions the sea conjures up in all of us. As a storyteller and seasoned performer Claudio brings his literature to life. On stage, on air, in a bookstore, coffeeshop or art gallery, Claudio's performance is simply mesmerizing. His articulate speech and South African accent add a hint of mystery that resonates with all audiences. He seizes the imagination and encourages his audience to examine the secret corners of the soul. The late Connie B. Gay, founding father of the Country Music Association, included Claudio's works in his personal archives in Nashville's Music Hall Of Fame. His works have also been acquisitioned by the University of North Carolina at Chapel Hill's Davis library and Wilson Library."
— Kevin Knight ~ English Literature Professor at The University of Wilmington , N.C.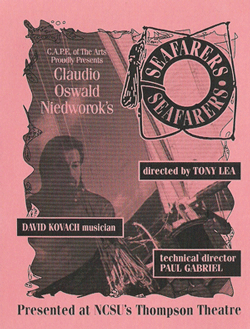 This show has been staged extensively here in the United States and in the Caribbean as well as on the private yachts of American interests in Cozumel, Mexico. It has done particularly well in the Local Theatre, University, Community College and High School venues as it is by its nature both entertaining and educational. Once again the staging for it is minimal and provided by Claudio. Lighting sequences are extensive as is the audio. The duration of the performance will be two 45 minute sets.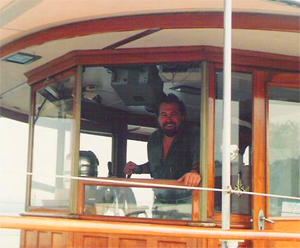 CD's, DVD's, Art and Books will be available for sale in the Theatre Lobby during intermission . (Also via www.ClaudioArts.com)
If so desired ~ all writings are also available scripted, designed and dedicated in the poet's hand and made suitable for framing ~ by commission!
"SEAFARERS" is available as a Solo ~ One Man Show – performance / A Full Stage Ensemble Cast With Dancers, Actors And Musicians ~ or: A Poet & A One Man Band!
Price and Ticket Prices to be determined according to selection and venue.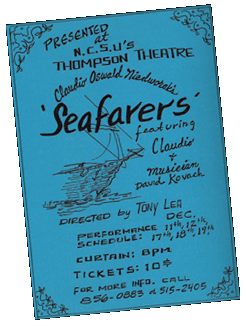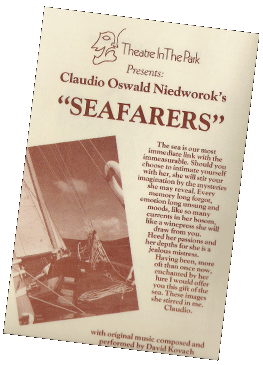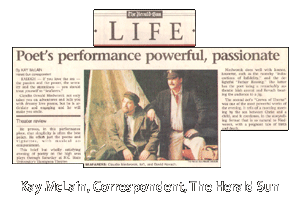 The sea is our most immediate link with the immeasurable.
Should you choose to intimate yourself with her,
she will stir your imagination by the mysteries she may reveal.
Every memory long forgot,
emotion long unsung
and moods,
like so many currents in her bosom,
like a winepress she will draw from you.
Heed her passions and her depths for she is a jealous mistress.
Having been,
more oft than once now,
enchanted by her lure
I would offer you
this gift of the sea ~
These images she stirred in me.
— Claudio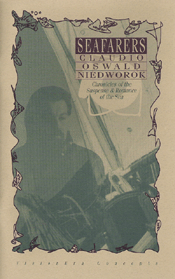 Seafarers is available in book form
The performance of "SEAFARERS" paints pictures in the mind's eye of sailing ships, old salts and sweethearts whose embraces cannot stay their men from the lure of the sea… These are rich and ageless images, as potent and lasting in this age of steel and power as in those days of wood and wind. These images draw us in, lure us with our own imaginations, and make us wish to have these experiences that have been so perfectly captured in word and rhyme.
— Alan R. Hall ~ The Chapel Hill News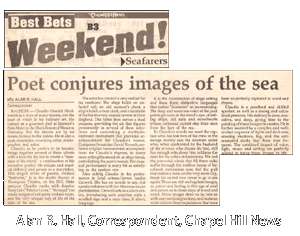 Claudio… has produced in "Seafarers" a masterful collection of prose and poetry.
— Dr. Myles Martel ~ The Persuasive Edge
You put so much heart in your writing. Reading one of your poems is like watching you go through whatever you're writing about.
— Mike Cross / Singer ~ Songwriter
Your work is very satisfying… like eating a full good meal!
— Robert M. Rice, 18th Century Living History Performer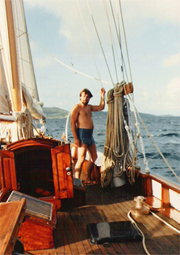 You use the sea as your metaphor, but obviously draw from a much, much deeper well.
— Audience Member
If you love the sea ~ the passion and the power, the serenity and the storminess, you should treat yourself to "SEAFARERS".
— Kay McLain, The Herald Sun
Rarely is an original work received so well. Congratulations Claudio!
— Ira David Wood at Theatre in The Park