On Ray Bradbury…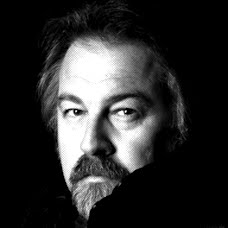 The very imaginative authors from Ray Bradbury to Edgar Rice Burroughs to Jack London, Herman Melville, and Jules Verne, and on… were among my own childhood inspirations to become a writer. Fairy tales from "Puss in Boots" to the hilarious abstract mockery of "Snow White and the Three Stooges" or any other imaginative nook and cranny of world literature preceded them. Comics were my greatest discovery, and I could never count the hours so splendidly spent. Being possessed of a very curious mind, I was literally consumed by most any genre as long as it captivated my attention. I had an insatiable appetite for entertainments and stories that were imbued with educational and historical aspects. From fantasy to science fiction and rugged adventure, as well as a romantic story well told, I began sculpting my own originality and imagination. But most of the inspiration arose from a life (already in so young a day, and to this day) well lived.
The seeds of literature took root in me very early on, and the mirror reflects that much was drawn from and nourished by the stories of Ray Bradbury that were somehow omnipresent in my youth. Always a paperback or comic in my back pocket. I was moved to write this dear creative soul a tribute when I first moved to my little Ray Bradbury town of Summer lawns known as Broadway, North Carolina and I am proud to say it has inspired a true and genuine friendship between us. In writing this, I chose all of his book titles as part of my language. I put them all in quotes to make it easy. Perhaps some of you will recognize them along with the tapestry of meanings I imbued in my quiltwork of memory by which to salute a master who was still in our midst for more than a decade after our friendship began with a shorter version of this poem. Sadly for us all this was his Farewell Summer (1920 to 2012). Upon reading the work, Bradbury himself sent me the title to it:
Journey to Bradbury
Really altogether "The Cat's Pajamas."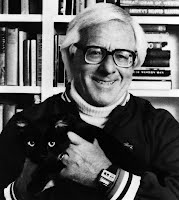 A realm of the psyche
nebula and paradox
mindful, mindless, fertile, barren,
seasonal and seasonless…
"Quicker Than the Eye."
"Let's All Kill Constance"
with "A Medicine for Melancholy"
in "A Graveyard for Lunatics."
Where… "A Journey to Far Metaphor"
"Long After Midnight"
"Somewhere In Yestermorrow"
becomes the soul's twilight
in kaleidoscope…
where "Death Is a Lonely Business"
and "I Sing the Body Electric"
by "The Machineries of Joy"
for "One Timeless Spring"
in "The October Country."
Where "R Is for Rocket"
"S Is for Space"
and "Something Wicked This Way Comes."
"A Zen in the Art of Writing"
"When Elephants Last in the Dooryard Bloomed"
alongside "The Halloween Tree"
where "The Martian Chronicles"
are drank
with "Dandelion Wine"
in "A Dark Carnival of Woes"
and "Fahrenheit 451"
burns "The Golden Apples of The Sun"
melting "The Toynbee Convector"
into metaphor
and fertile lore
for "The Stories of Ray Bradbury"
himself "The Illustrated Man"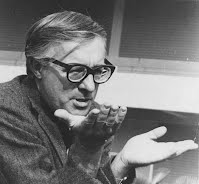 amid "Green Shadows, White Whale"
observing the white whale…
pondering Melville and "Moby Dick."
Across the diamond-studded lawns
"Now and Forever"
of certain omnipresent dawns
"Bradbury Speaks"
of "The Homecoming"
where laughter coils upon a swing
that "Farewell Summer"
with ghosts of memory
gathering "A Sound of Thunder and Other Bradbury Stories."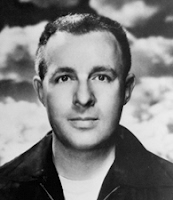 The windstrewn countenances
of days gone by
The mother's laugh
the father's cry.
The tail that ever wagged
the pup
whose absence is but
sorrow's cup.
A mirror
to man's twilight
and oblivion
"Driving Blind"
Yet a voice
"From The Dust Returned"
to nature's rage…
to Journey To Bradbury
you need only turn the page…
Here's "One More for The Road."
Cheers!
–Claudio Oswald Niedworok