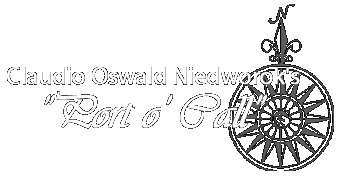 A Recital of Tales, Chanties, Music and Dance
(An excerpt taken from the review by Alan R. Hall for The Chapel Hill News).
Claudio again swept us away in a recital at the West Side Gallery on Dawson Street in Raleigh for a limited engagement Aug. 18 – 21. This presentation assembled from his written works, is titled "Port o' Call" and combines his seafaring songs with other more landward verse. This lavishly laid buffet includes songs of love and desire, poems of darkness and treachery, the rhyming couplets of a mariner's tune and the pious aria of the faithful. In a presentation lasting only a little more than an hour, a lucky few took a voyage with a most experienced captain. We were the wiser when we returned.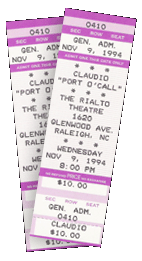 Part of what makes Claudio's live performances enticing is his knowledgeable mingling of voice with music. He also remembers to give his audience something for the eye to do. In his "Seafarers" program we laughed along with a jaunty mime; in "Port o' Call" we were treated to the sinuous interpretive dances of Laura Thomasson, danced to music played live by the composer / musician, Jon Paul McClellan (and a host of similarly talented musicians). The rich, chord based progressions lent an almost hypnotic feel to the verses they supported, and the dance was varied from playful to seductive, from dangerous to divine. Claudio's performance augmented by Thomasson's sultry dance raised the temperature in the room considerably.
Claudio can evoke an image with a thriftily chosen few words; he can likewise set us adrift on a becalmed sea and slow time to a tandstill. He combines a hypnotic tone and delivery with vivid imagery, but he knows as well when to take his leave. After only a brief stay, he is voyage bound again, but his sails are visible for a long time on the horizon, and he leaves us with pictures we had not seen before.
Minimal Audio and Lighting Designs and Stage Props.
Ticket prices determined according to venue.
The show is available as a Solo performance / with a musician ~ and a full cast ensemble!