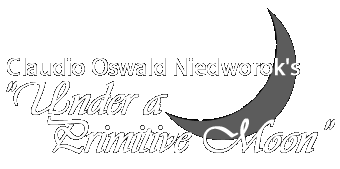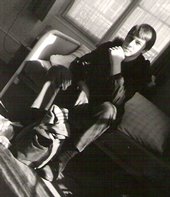 The title piece is truly a primitive tale of darkest Africa drawn from the author's childhood on the continent (1958 – 1969). Inspired by friendships , meanderings and dialogues with tribal natives , UNDER A PRIMITIVE MOON exhibits a well cultivated understanding of existing superstitions, fears and beliefs. The work evokes a sense of the ethereal and mythological as an aspect of life even this far along in the twentieth century.
In his maritime writings and verse one's imagination is lured from a modern day tale of murder, mystery, mayhem and intrigue into a realm of timelessness, romance, humour and adventure in the no – man's – land of the high seas. It has been said of the author that he circumnavigates his issues well. So come for the sheer entertainment of it and leave the wiser for the education.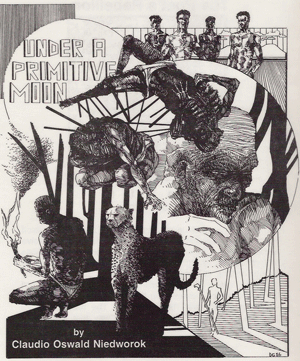 Art by Daniel Gallant
The classical writings and verse of the performance – pieces offer a much needed view into forgotten or neglected realms and aspects of conscience. Each vignette is a journey unto itself and will transport you to the most intriguing destinations of imagination, heart, mind and soul!
Join us for an evening with CLAUDIO and musician / composer Jon Paul McClellan.
More from the storytelling poet who brought you "Seafarers." Don't miss this one!
— Tim Morrisey ~ Director, Temple Theatre
Claudio is truly a gifted artist, poet and performer. In my travels throughout America I have been exposed to many performers in different artistic mediums. I can say without hesitation that any state would be enriched by Mr. Niedworok's talents. He is an exceptional performer and person. North Carolina is a better place for his being here.
— James L. Williams ~ Director of State Government Affairs at Glaxo

Two 45 minute sets ~ Minimalist staging ~ Audio and Lighting!