An Element of History and A Matter of Pride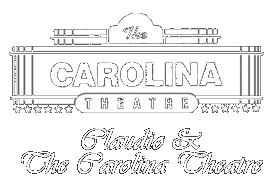 In the Summer of 1992 Technical Director Paul Gabriel of Durham's Carolina Theatre hired Claudio to assist in its restoration project and assume any position that would be required of him during this extensive and historical undertaking. As the theatre's very first stage hand Claudio also assumed the position of assistant carpenter (for aiding in the building of the stage and orchestra pit as well as other areas throughout the house), overall labourer where and as needed and assistant to Paul Gabriel and Pepper Fluke in touring the public through the backstage area and the overall renovation process. He also filled in as host and translator to International visitors (particularly to the German, Dutch, French, Afrikaans and South African tours) and eventually also took position as the internal head of Security under the auspices of Paul Gabriel. Claudio also assisted Jamin Skipper who came in as head of maintenance initially and is now the overall Facilities Manager. The Grand Opening of Fletcher Hall known as SOMETHING TO POINT TO was as much a celebration of all the hands on deck as it was art unto itself ~ a praiseworthy accomplishment by all . This year (2006) is another milestone for The Carolina Theatre as it is its 80th Birthday celebration.
It is with particular appreciation to Pepper Fluke, Jamin Skipper, John Elliott (the current Technical Manager) and The Carolina Theatre Management Staff that Claudio remains on call as a member of the in – house stage crew and wherever else his skills and services are required ( to include the culinary arts as Chef Claudio ) . He has also performed on stage as the sole narrator for Igor Stravinsky's "Histoire Du Soldat" with Conductor Gerhardt Zimmermann and The North Carolina Symphony. Claudio Oswald Niedworok is proud to be woven into the tapestry of this unique theatre's history since well before its reopening to the public in 1993 and credits this inspiring aspect of his life to his late friend Paul Lamont Gabriel ("Gabe") with whom he shared a longtime history in the arts.