Claudio is a Classically Influenced Poet and Master Storyteller which reveals itself as a very prominent and arresting element in all of his writings and performances ~ whether in his Storytelling Delivery or his much celebrated Poetry Performance Art (as well as in the unspoken aspect of his visual arts).

Claudio gives an intimate Solo Performance of his own original writings ~ very much in the tradition of Hal Holbrook performing as the literary Mark Twain.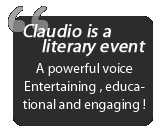 Claudio Oswald Niedworok is widely celebrated in the arts for his maritime writings and full stage ensemble cast in his production of "SEAFARERS". In this show he offers a much wider range of topics, readings, recitals, monologues and performance pieces. It has been said of the author that he circumnavigates his subjects well and understands the art of creating relevant entertainments. In voice and delivery Claudio is frequently compared to Richard Burton.
The classical writings and verse of the performance pieces offer a much needed view and perspective. From the dire plight of those devastated by hurricane Katrina in: "Mud In Your Eye" to the homeless in: "Sidewalk Shadows" and the Edgar Allen Poe (damage that rumours can do) flavoured: "Midnight Walker" and on into themes Comedic, Tragic, Suspenseful, Adventurous, Dramatic and Romantic. Having travelled the world considerably by land and by sea Claudio's performances are as educational as they are entertaining.
Venues are being pursued For CLAUDIO's 2006 "BLOOD OF THE WRITER" Performance Tour and it would be an honour to be considered for yours.
Featured Special Guest Appearances by noteworthy talents and prominent personalities are to be announced throughout the tour.
CD's, DVD's, ART and BOOKS will be available for sale in the Theatre Lobby during Intermission.
If so desired ~ all writings are also available scripted, designed and dedicated in the poet's hand and made suitable for framing.
The show itself will require some lighting sequences, audio and minimal staging. The duration will be two 45 to 55 minute sets / depending on interacting with audience. FYI: Claudio is demanding, however , easy to work with.
Price and ticket prices to be determined according to venue.

Your work is filled with such rich imagery and delivered so masterfully.
— Dr. Myles Martel ~ Author and President Ronald Reagan's Communications Counsel and Debate Advisor
Claudio is a gracious and talented man whose writing and stage presentation reflect the depth and sincerity of his devotion to his art.
— Mike Cross ~ Storyteller and Folk Singer
He is an authentic poet and strongly dedicated to his art. His works are strong, poetic and deep. He touches the human heart.
— Marcel Marceau ~ The world's greatest pantomime
Claudio is a Master Storyteller, Poet and a Monarch of Language, bending it to his will. His writings and performances are irresistable. A true tribute to the written and spoken word. The listener can not help but be swept along by each richly detailed, precisely worded litany. It is Theatre for all the senses. This is Theatre at it's best!
— Alan R. Hall ~ The Chapel Hill News
A true original!
— Phil Harris
The most beautiful poetry.
— Alice Faye
Claudio is a voice for all he chooses to represent and a true talent.
— Mayor Charles Wood of Lizard Lick, North Carolina
Your performance was received with such overwhelming and critcal support. Superb! Congratulations on your standing ovation.
— Ira David Wood ~ Theatre in The park
What a pleasure it was to host Claudio at Temple Theatre. He is truly a marvelous presence on stage and I would think going to be in great demand with his show which resulted in a standing ovation at evening's end.
— Tim Morrisey ~ Artistic Director, Temple Theatre .
Claudio is part Kipling, Poe and London.
— Wendy Fautley ~ MGM Studios (As quoted in The New York Times)
Your show was an excellent blend of humor and pathos with the right combination of bittersweet thrown in for good measure. The audiences were appreciative and enthusiastic about all aspects of your performance. Thanks for bringing your talents to the Thompson Theatre Stage.
— John C . McIlwee ~ Director, Thompson & Stewart Theatre, N.C.S.U.
Claudio is a very engaging young man with a lot of energy and personality. I recommend him very highly for his collaborations with The North Carolina Symphony as the single narrator for "L' Histoire due Soldat" by Igor Stravinsky at Durham's historical Carolina Theatre and "Gilgamesh" (The U.S. Premier) by Martinu at Raleigh's Memorial Auditorium.
— Gerhardt Zimmermann ~ Music Director and Conductor, The North Carolina Symphony, Canton Symphony Orchestra, Breckenridge Music Institute
Claudio! Bravo!
— Ray Bradbury ~ Famed Fantasy and Science Fiction Author