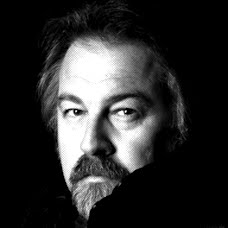 Hello, dear readership. I hereby commit my pen and narrative, rather retroactively, to reviewing a film that merits the introduction of this new project launch and represents what I look for in story, theme, and on film in exemplary fashion. I give you ~

Against All Odds
To reflect briefly on the history of this story it is a loose remake by Director Taylor Hackford and Screenplay Writer Eric Hughes of a 1947 RKO Film Noir entitled OUT OF THE PAST. That film starred Robert Mitchum (an actor who, in my humble opinion, became a signature element of that cinematic genre), Jane Greer, and Kirk Douglas.
1984 – The story, now featuring Jeff Bridges, Rachel Ward, and James Woods as the primary cast of characters, also includes Alex Karras, Richard Widmark, Dorian Harewood, Swoosie Kurtz, Saul Rubinek, Pat Corely, Bill McKinney, and an older Jane Greer herself, once again.
As seems a typical sketch of film noir characterizations we have the weak willed Handsome Man, the somewhat reptilian Nightclub Owner, and the sultry-seductive Femme Fatale, all in a tale of corruption, murder, and betrayal interwoven with several surprising twists and turns leading to a rather hauntingly unrequited ending.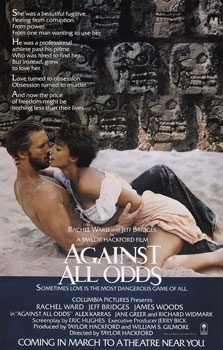 Having summed it all up somewhat clinically, as can be a wordsmith's trait in this particularly reflective craft, I must include this film is truly what we go to the movies to see. It is an exceptional escape. One is truly transported from any personal concerns or maladies into the exotic realms of this story. Be it to fool loneliness with a love story or trick boredom with a thriller AGAINST ALL ODDS will get you there. To boot it is likely the most sun-drenched film noir ever conceived with its American and other exotic locales. From the film's opening scenes in Mexico over the arresting, almost classical-metallic, edgy, and languid, guitar score by Michel Colombier and Larry Carlton (I was so inspired by it I went in search of an entire album of that kind of musical creativity and originality but found only the soundtrack.) to an entirely inspired and well-crafted sequence of film footages, beginning to end. This movie shimmers in the heat of the tropics and the lust of its erotic-romantic characters. The desire for each other between Bridges and Ward is palpable and convincingly real. An encroaching darkness is the dread luring our imaginations and makes us glad our own concerns are not of that nature.
Without sharing all of the story's colours and hues, so as to leave you with a few surprises of your own, I must include the game of chicken between Jeff Bridges and James Woods in a Porsche and a Ferrari on Sunset Boulevard is noted as among the very best car chase sequences ever filmed. Not unlike the film itself it will have you fumbling about blindly in search of a seat belt to strap yourself in and prepare for the thrills ahead. Don't burn the popcorn!
Cheers!
–Claudio Oswald Niedworok